14 Mar

5 DIY Couch Cleaning Tips
5 Steps to Cleaning Upholstered Furniture
Is your upholstery looking a little dingy? If your armchairs, couch and other upholstered furniture pieces are stained and smelly, you can freshen them up with some DIY spring cleaning. If you need deeper cleaning, remember that Carpet Keepers provides expert, thorough cleaning of upholstery as well as carpets.
1. Vacuum Thoroughly
Start by thoroughly vacuuming your furniture. Lift the cushions and use your vacuum attachments to clean under pillows, under armrests, and behind cushions. Finish by vacuuming the upholstery all over. If you have cushions with removable covers, take them off to launder or dry clean. Don't forget to vacuum around the floor surrounding the furniture, where crumbs and dirt are likely to collect.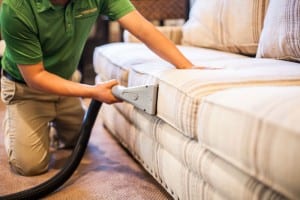 2. Check the Tags
Every upholstery fabric needs to be cleaned differently. Do you know what type of product to use on your upholstery?
You can find out by checking the tags. They'll have a symbol indicating what type of product you can use. Here's how to interpret the symbols.
W: You can use water-based cleaning agents. This includes soap and water and many household cleaners.
S: Solvents only should be used. You can only use special chemical cleaners to remove stains.
WS or SW: Either type of cleaner can be used.
X: Only hire professional cleaners. You'll commonly see this symbol on leather, silk or fine fabrics.
If you don't have the tags anymore or you can't read them, the best bet is to use your chosen cleaner in a small hidden spot. If the cleaner you use seems to work without damaging the fabric, try it on the other stains.
3. Steam Clean
Most upholstery responds well to steam cleaning. You can rent a steam machine from most home improvement stores. Keep the following in mind:
A steam cleaner for home use will work, but it won't provide the deep, thorough cleaning that a professional steam cleaning will.
Home-use machines are less likely to remove dangerous allergens and dust mites from your furniture.
Thorough drying is necessary to prevent mold and mildew from forming.
4. Get Odors Out
Many of the odors in your couch and armchairs should come out once they are clean. If you have mildew smells, you may need to let the upholstery dry longer. Open a window in the room and use a fan to help it dry.
Lingering odors can be a sign that your furniture needs a deeper cleaning. Most cleaning products for home use are not designed to lift set-in odors. Only professional cleaning will take out stains and odors that have set for a long time.
5. Keep Furniture Clean
Once you've finished getting the smells and stains out of your furniture, keep it clean by instituting the following rules:
Don't eat while sitting on your upholstered furniture.
Never put shoes on the furniture.
If your pets lie on your couch, use a protective sheet or blanket.
Vacuum your upholstered furniture regularly.
Clean spots and spills immediately.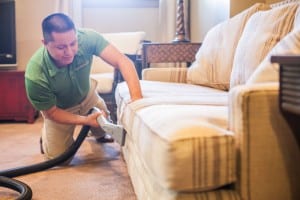 Get Expert Help
If your efforts to get your sofa and chairs clean haven't produced the results you want, it's time to call Carpet Keepers. Our patented, nontoxic PureScience method works on upholstery to:
Remove all stains and odors.
Destroy dust mites, mold and allergens.
Leave upholstery clean, fresh and soft.
To get deep cleaning for your furniture that will leave your whole house feeling and smelling fresh, call Carpet Keepers today.